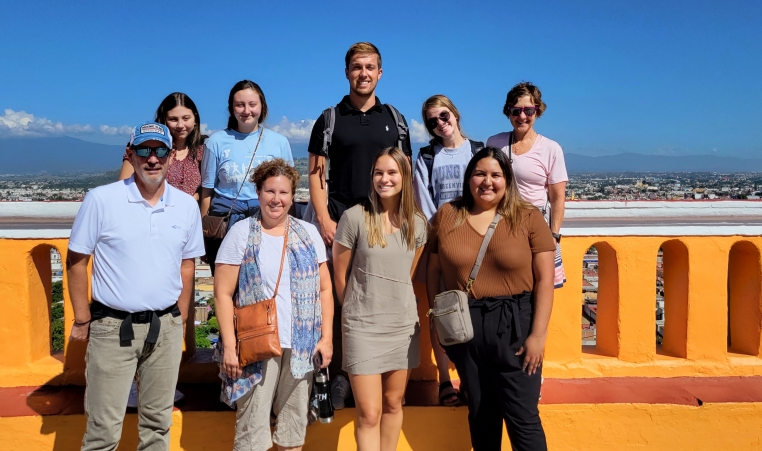 A message from Bruce Osborn, Director of Spiritual Development:
A team of nine traveled to Esperanza Viva July 9-16. This was the GLC YMCA's fourth team to go and serve the staff and children at EV. Esperanza Viva is located in Puebla, Mexico, about two hours southeast of Mexico City. Approximately 90 children call EV home and ages range between 5-18 years old. Our week at EV generally consists of a morning service project around the campus and afternoons and evenings are spent playing games, conducting craft activities, and hanging out with the children. This year, in our service project, our team assisted with the construction of a parking area at the front entrance to the campus. It was strenuous work, but the team did a remarkable job of completing the task assigned to us.
The whole focus of the week is time with the children. And that never disappoints. Relationships are built that last a lifetime. And these hours with the children are what bring many team members back on future trips. Many of the children are rescued from difficult family situations; abuse, drugs, sex trafficking, and general neglect. But you may never know the hurt they have experienced, because the presence of God, along with the ministry of EV, brings much healing to these beautiful souls. That is seen in the laughter that can be heard throughout the campus at any given time.
A week at Esperanza Viva changes lives. Our willingness to go and serve changes the lives of the children and staff who live there. And in turn, the lives of each team member from the Y is changed as well. God's presence is real on that campus. You can see it in the children, and as a team member you can feel it. God tells us in James that "religion that is pure and undefiled before God is this: to visit orphans and widow in their affliction, and to keep oneself unstained from the world" (1:27). I am not sure we need any clearer explanation of how God cares for the children and the work going on at Esperanza Viva.
Team members pictured:
Bruce Osborn, lead
Tammy Evert
Kayla Hovila
Emily Bartlett
Jacob Studer
Jaime Wasserman
Savannah Wasserman
Eden Wasserman
Jasmine Martinez