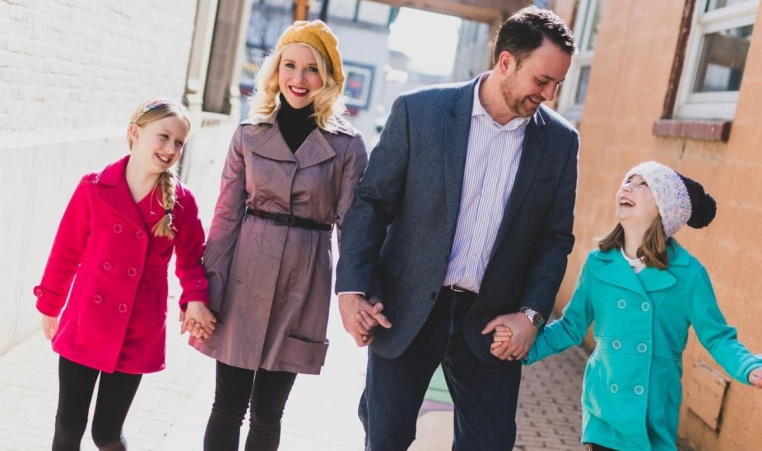 Introducing the author: 
We are excited to welcome Stacy Giddings, Director of Development to the Glacial Community YMCA! Stacy brings a background of passion-fueled marketing and fundraising experience to our Y. She is a naturally gifted storyteller, an energetic collaborator, and a genuine people person that enjoys learning about other's inspirations and aspirations.
 
---

In my twenties, I was able to momentarily squelch my self-conscious feelings of uncertainty by peaking over my cubicle office wall and observing my office mate doing similar office tasks. This evidence of knowing I was on the right track gave me validation. In my 30's this tactic no longer worked. At age 32 I found myself in unfamiliar territory. I had just made a cross-country move to a new city with my husband, two-year-old child and three-month-old infant. For the first time since graduation from college, I did not have a job to go to Monday through Friday. My new title was a stay at home mom. It was a role that I wanted to succeed at like no other. But my insecurities were intent on causing self-destruction. Voices of self-doubt plagued my long days at home and stymied my attempts at productivity. I felt judged when others, including my well-meaning husband, asked, 'What did you do all day?' But even worse was that I was judging myself and constantly coming up short. With no cubicle coworker to calm my craving for conformity, I sought out my industry's best practices by scrolling Facebook and blogs on motherhood. Not helpful. 
I needed a cheerleader. I needed my tribe of women to reassure and validate me. In a new city, away from friends and family, I felt lost. Amid my reeling, a memory resurfaced from when I was a child. My mother, a retired stay at home mom, took me and my brother to our local YMCA. It was where I learned how to swim, how to swan dive and that I wasn't cut out for ballet. I still remember my first friends that I met at the Y.

Armed with this God guided resurgence, I planned a purposeful visit to the YMCA in Oconomowoc. A familiar sense of accomplishment returned as I navigated the parking lot holding the hand of my two-year-old and carrying the infant car seat. I was toting a heavy haul that included a workout bag, water bottle, plus diaper bag which was loaded with bottles, a sippy cup, goldfish crackers, diapers, wipes and pacifiers. Inside the familiar doors of the YMCA, I felt a great sense of accomplishment. We had made it out of the house and I felt like I could conquer the world. I dropped my children off at the Y's Kids Corner and proceeded to my first group exercise class since I took step aerobics in the 90's.  

The aerobics studio was packed with a group of strangers whom I felt an instant connection with. They were a group of fresh faced, pony tail clad women who sported safety pin tags representing their children at Kid's Corner that they would need to claim post workout. When the music started we were transformed from a group of strangers to a powerful tribe of skillfully compliant women as we followed the instructor's directions to kick to the front, run to the back and lunge to the side. The thunderous music quieted the voices inside our heads that told us that we were not enough, that we'd fail, and to remember to pick up milk and Cheerios on the way home. Our steps and our breathing patterns became in sync as we marched dutifully to the beat. My adrenaline surged as a feeling of achievement swept over me. It was a feeling of belonging. Even though I didn't know any of their names, I felt like I was in the right place, doing the right thing and that gave me more than just validation, it gave me power.  
On that day, and for many years later, the Y gave me what I needed in order to be a successful parent.  As much as I always thought that the most important thing is to be a soft place to land for my kids, it was equally important to believe in myself and project that confidence to my children.  
The Y gave me 'super mom' power and that is why I give to the Y.