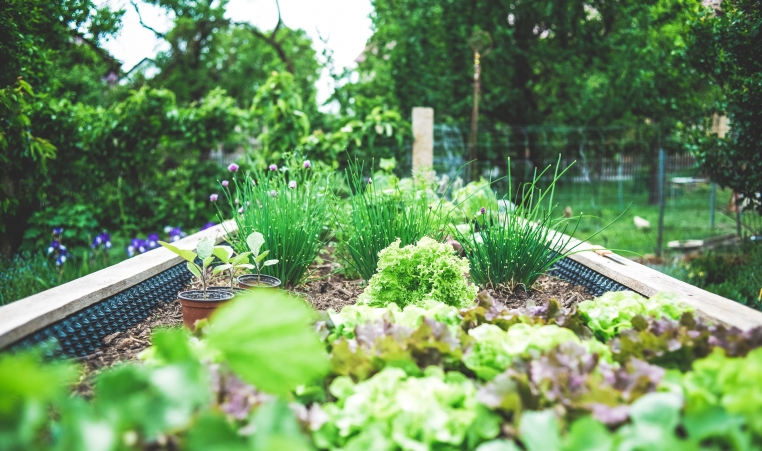 Did you know the Y has its very own garden? Our Service without Boundaries group, which is comprised of adults with intellectual and developmental disabilities, have been very busy planning, planting and tending the community garden at the YMCA at Pabst Farms. Each of the raised beds has a different theme including salsa, salad, Italian, tea and butterfly.
With summer in full swing, it's officially the season for growing! Even if you've never tried your green thumb at gardening, you can still plant your own simple & edible garden at home. It's not too late to begin. Most gardening centers carry starter plants that will make your garden grow at a much faster rate than if you started with planting from seeds, especially this late in the growing season. Begin with a good, quality potting soil and work in some manure or added compost to get the most out of your growing experience. Here are some easy plants you can grow at home if you are a beginner that take very little work to maintain and will produce a harvest of deliciousness by the end of the summer. These work well for containers grown on a patio or even smaller planter beds in your yard that don't take up a lot of space.
Lettuce: Not only are salads a great summertime food, this is one of the easiest vegetables to grow and many varieties will continue to produce even after several cuttings. From arugula to romaine, lettuce is a great source of Vitamin A.


 

Herbs: Basil can be used in homemade pesto. Mint leaves are super refreshing in beverages. Chives, cilantro and parsley make excellent garnishes. Dill can be used in pickling, and rosemary and oregano in cooking savory dishes. These herbs are easy to plant, grow and enjoy all summer long.


 

Tomatoes: Grow them in a pot, in a hanging basket or in the ground. Any way you grow them, make sure they have plenty of water and sunlight and they will be sure to produce a plethora of red, delicious tomatoes to enjoy! Make salsa, pasta sauce, can them, or eat them fresh!


 
Curious what else you can grow and how? Visit https://www.almanac.com/gardening for even more simple gardening tips!