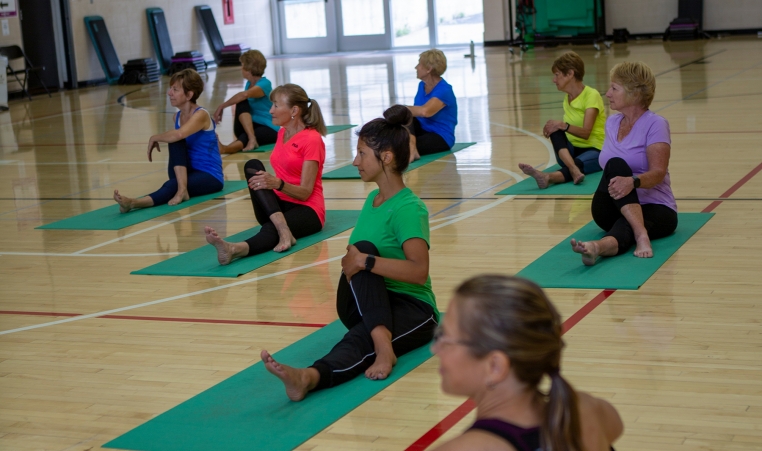 New to group exercise? Don't be afraid!
We often hear these 3 reasons people avoid even trying a class:
"I'm too out of shape. Let me get fit first, then I'll try."
"I'm too old to do that stuff!"
"I'm too uncoordinated to even be able to keep up."

All of these reasons really end up being excuses from holding yourself back when you could easily be achieving your goals and making more out of your Y membership. According to IHRSA (the fitness industry's research advocate), people who workout in a group are 50 times more likely to stick with their exercise program! Those are amazing odds and further reiterate if you have been unsuccessful in the past in sticking with a consistent routine, trying a class just may change your life forever. Even better, you will make new friends who will help hold you accountable to be there weekly. It's an automatic built-in support system! Double bonus!

We have categorized list of classes, but here are some guidelines to consider when choosing a class to start with:

If you are great at walking outdoors, but need to supplement this routine, consider starting with 1 day a week of Les Mills Core, Barre OR BodyPump and another day of Yoga or BodyFlow. This will complement your cardiovascular with a strength-based and flexibility workout.

If you want to get your heartrate pumping more but don't want the impact of running, consider a Group Cycling class. This will elevate your cardiovascular fitness and help to burn calories more efficiently, especially if you enjoy doing a strength routine on your own.

If you are doing strength workouts on the machines or in the weight room, Les Mills Core IS the foundation class for your core as it focuses on the deep muscles of the abdomen and all the supportive and stabilizing muscles around those. And because it's only 30 minutes, your workout flies by as you get stronger. If you prefer using lighter weights and bands and don't necessarily love the Wellness machines and weight room, Barre is a 45 minute head-to-toe workout with a bit of a ballet feel (no experience needed in ballet, so no worries!). If you like the feel of the weight room, but you don't have the motivation to do it alone, BodyPump is one of the fastest ways to build strength and stamina as it works all the major muscles of the body focusing on muscular endurance.

For those who read "I'm too old to do that stuff!", we offer Active Older Adult classes. All of these start with "AOA", so they are easy to select.

For those who want to maximize their time, Les Mills Tone, BodyCombat or TRX Circuit give you a complete workout in one class. Time management at its best!

These are just some of the many classes we offer here at the Y. Never fear asking a staff member what class they feel would be best for you based upon your personal preferences and current medical conditions. We are always here to help! Consider making an appointment at our Wellness Desk with one of Wellness Coaches who can point you in the right direction.

So it's September, and we say, "GET TO CLASS!"

Need extra accountability? Join our SeptBURN challenge. Complete 8 group exercise classes in the month of September for your chance to win! Find the challenge on the Y app.